Welcome to the official website of Danny Osuna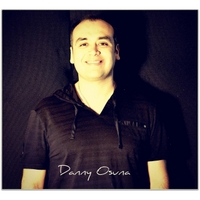 Danny Osuna is a versatile contemporary composer and a prolific writer of both cutting edge modern music and traditional composition. He is educated in various styles of music and his ability to compose for different styles and genres is limitless. Drawing from a vast knowledge of Latin music in particular, his works deliver a rich and distinct sound.
Danny Osuna was born September 22, 1977 in Laredo, Texas. He began his musical development by seriously undertaking the guitar at the age of eleven. During adolescence he expanded his understanding of musical concepts and quickly picked up a variety of other instruments including piano, bass, Cuban tres, mandolin, harmonica, various percussion and most recently the violin. By the time he graduated High School, his enthusiasm and talent garnered one of the highest honors, The Louie Armstrong Jazz Award.
Danny was only twenty years old when he began working for Indart Music, one of the leading Latin music production houses in the United States, where he musically collaborated on commercials and song production for TV, film, and video games, as well as engineering and performing on recorded albums with LMS Records. He then focused and refined his exploration of music at the world renowned Musician's Institute in Hollywood, California where he garnered a Bachelor of Arts in Music emphasizing composition at age twenty-one. He is now President and CEO of Beat Chamber Records and Beat Chamber (www.beatchamber.com) his production music house and Contemporary and Latin song catalog.
As a professional composer/songwriter/producer, he has created hundreds of original musical compositions, many of which have been featured in films, television, commercial programming, web sites, and theatre. As a producer/arranger, he has worked in a variety of genres with a vast assortment artists and groups from distinct backgrounds.
LATEST MUSIC & SINGLE BY DANNY OSUNA
Check out

Danny

's music videos